Tires and Wheels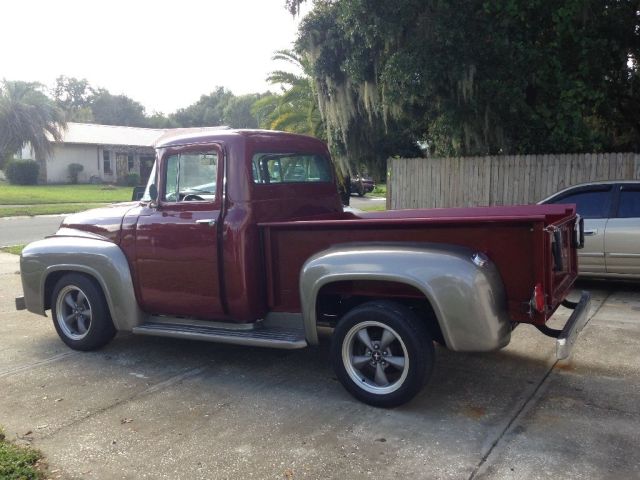 The truck came with Mustang wheels and smaller tires up front than in the rear. This gave it a rake that did not look particularly attractive to me. I also did not like the way the rear tires did not fill the wheel wells. So I wanted to get new wheels and tires for the truck.

I'm old school and prefer lots of rubber showing - no rubber band tires on "big baller" wheels for me. I also like deep dish wheels, not the new styles with the spokes at the outer edge of the rim.

I noticed right away the speedo was off (and the odometer). After driving the truck for several months, I came to the conclusion that the speedo was almost 10% slow. As the original (rear) tires were P215-65R17 (28" height), to make the speedo close, I started looking for a 30.5" tall tire (if it would fit). Keeping with a 17" wheel, I settled on 265-65R17 for the rear and 245-70R17 for the front (both 30.5" in height) - giving me a wider tread, more side rubber and a flat stance (as far as tires go).

As for wheels, the rear came with a 2" spacer, but the front with none. However, the front wheels would rub on the anti-sway bar a full turn, so the first thing I did was add 1/2" spacers to both front wheels. This (almost) fixed the problem - a hard left/right with a bump would still rub. The Mustang wheels had 5.5" backspacing (both front and rear). With the rear spacer, I was hoping to find some nice deep-dish wheels along the lines of the American Racing Outlaw II wheels. But, alas, this was not available in the diameter/width/backspacing/lug pattern I needed. I did find the "perfect" wheel from company "x" (I can't recall their name), but they went out of business the month before I went to order them. After a lot of searching, I decided to change direction and went with black steelies from US Wheels. Rear wheels, at 17x9" with 5" backspacing (and keeping the 2" spacer) fit nearly perfectly. The tires clear the bed by 1.25" and come right to the outside of the fender. For the front 17x8" with 4.5" backspacing gave me additional clearance from the anti-sway bar without using a spacer. Again, the tires come right to the outside of the front fenders.
<== Old Tire and Wheel

New Tire and Wheel ==>
Back to main page